On a recent road trip, Diana and I found ourselves trailing a moving van. Twenty years ago, that same company moved us from Kentucky to Boston. Looking back, we had a good laugh thinking about the move.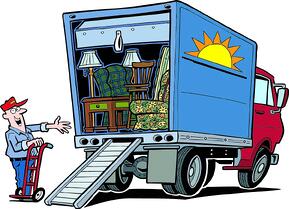 The nicest piece on the truck was a beautiful custom sofa we got by default. Diana, an interior designer, had been working with a difficult client who'd rejected the sofa. So we inherited it. Also on the truck was a family heirloom: a rock-maple bedroom set that had been her father's. After our first son was born, we had it refinished and it's still in his bedroom today.


Like many cash-strapped newlyweds, we'd accumulated a lot of household flotsam and jetsam and we gamely dragged all of it with us to Boston. We had a mattress that had been squeezed in and out of many small apartments. I'd hacked the box spring in half with a Sawzall so that we could get it up the stairs to a third-floor walk-up then bolted it back together in the apartment. Ingenious, right?
Packed tenderly in bubble wrap was a rickety old brass-and-glass dining set. Diana's family had donated it to us, probably to save themselves a trip to the dump. We didn't leave anything behind: plastic lawn chairs, trashcans, a rusty lawn mower, a dog crate, sans dog. He rode with us in the car like a pampered potentate.
We were young. What did we know? We paid by the pound to move our meager possessions, most of which weren't worth hauling past the city limits. That's a lesson worth considering if you are moving.
How much will it cost to move your stuff? A lot. My suggestion is to have a yard sale. Sell the old mower and the china cabinet. Get rid of the old mattress. You probably need a new one anyway. Then, stop by Furniture Consignment Gallery. We've got three showrooms full of quality furniture and new mattresses at prices you'll love. Now, that's how you make a fresh start.