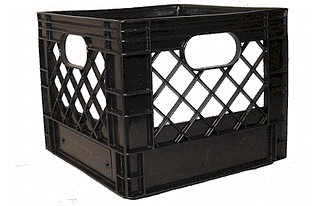 My first apartment in Lexington, Kentucky was decorated in frat-boy style. The coffee table was a single milk crate. The television sat on two crates. My girlfriend, soon to become my wife, spent most of her time studying to be an interior designer and the rest frustrated over my barren apartment. Our dog's incessant barking eventually got me thrown out of the building. When I moved, I took those milk crates with me. Hey, quality, comfort and price!
I was reminded of those penny-pinching post-college days this week when I got a call from a friend. His daughters had destroyed their dining room table with arts-and-crafts projects and he was in the market for a replacement.
"Nothing fancy," he said. "We're used to the junky stuff." In fact, he added, he didn't really want something from our store. What he was really looking for was a consignment reject. In other words, he wanted a table so dented, dinged and scratched that we wouldn't put it in our showrooms.
"Buddy," I said. "You've got to upgrade." I invited him to visit our showroom to check out our high quality - and reasonably priced - dining room tables.
This incident got me thinking. Milk crates and plywood are fine furnishings when you're just starting out in life. But there comes a time when you have to put down the glue gun. My friend and his wife have good jobs. The problem is, they'd gotten so used to making do that it had become a way of life.
We see people like my friend in our stores every day. I try to share my philosophy with them. Your home is your biggest asset. Furnishing it with quality pieces adds warmth and energy to your home. So toss out the plywood and stop by Furniture Consignment Gallery. We'll help you find the grownup furniture you deserve.