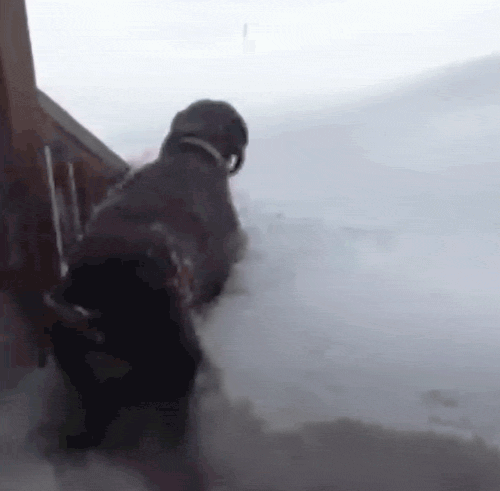 As the massive glacier of snow and ice recedes from our lawn, a new treasure appears every day. Surprise! Here's a single ice skate that's been missing for months. Yesterday, I found the football the boys got for Christmas, along with a partially chewed pizza box, sans pizza. Roxie, our toddler boxer, is the culprit. She considers everything in our house - and our garbage - to be her personal chew toy. Our front lawn is a graveyard of well-masticated items lying, like bleached bones, in full view of the neighborhood.
Thanks to Mother Nature, we had no idea the full extent of our pup's destructive instincts. Snow after snow hid the evidence. Now, we're placing bets on what might appear next during the Big Melt. I am missing my grill light er. But it's not like I need it yet. I still can't find my grill under the avalanche of snow that slid off the roof.
We aren't the only ones cleaning up a lot of debris after a harsh winter. One of our neighbors in town discovered a deer carcass in a snow bank. At least we haven't had to bury anything at our house.
At work, though, I've been tempted to get out the shovel this week. We've been witnessing a curious phenomenon in our showrooms. Suddenly, people are trying to pawn off on us the stuff they've unearthed this spring from their cellars, attics or, in some cases it seems, their snow banks.
We're talking faded pastel art prints from the 1970s, smelly rugs, and a couple of upholstered chairs that look like they'd served as cat scratching posts for a couple of decades. We had about ten cars show up yesterday full with crapola. Thanks for thinking of us, but no.
Boston is finally emerging from hibernation after a brutally harsh winter. And it isn't a pretty sight out there. So if you're looking for a place to unload the flotsam and jetsam at your home, make a beeline - for the dump. We only take the best of the best at FCG.