Before you sell your home and punch your ticket to Destination Downsize, it's important to seriously consider hiring an Interior Designer. Having a professional eye by your side as you make critical decisions about what stays and what goes will pay huge dividends down the road.
Your designer can help you to construct your simpler life before you get there. They can help you to build your vision of style, functionality, and through this can help you identify which pieces will move with you and which pieces won't.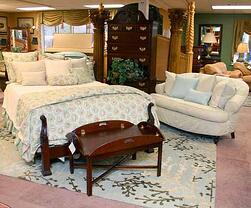 From there, a designer can help you begin the cleansing process which will in turn help you to sell your home faster. Removing pieces from your home that will not travel to your next destination helps to eliminate clutter. This allows potential buyers to better visualize their own pieces in your living space.
Your Interior Designer should not charge an arm and a leg for assisting with this process. It is simple planning. This also gives you an opportunity to begin sharing your vision so that when your real project begins, your designer will be familiar with your tastes.
Recently, we assisted a client who was late in her process and downsized from a beautiful home in Sudbury, MA to a two bedroom condo in Boston. In the planning process, the place she purchased had an odd wall that angled in such a way that it does not accommodate her furniture or even a rug very well. She also is temporarily using a piece of glass on top of containers as a desk and is enduring many other inconveniences.
Had she engaged with an Interior Designer early in her process, she may have realized that the odd shape of the living area, would make it difficult for her to create the room arrangement that she desired. Had a designer been present in the home selection process, she may have saved herself the aggravation and frustration that she now faces.
Hiring an Interior Designer early in your down sizing process can help you to organize your home furnishings, sell your existing home faster and can help you to assess potential living spaces.