Somber as undertakers, the couple trekked into our showroom four times in four days. They slipped in through the front door, ignored our cheerful greetings and made a beeline for the section featuring dining-room sets. There, they spent hours grimly examining one particular table and the matching chairs. Our sales associates volunteered their help. The couple brushed them all off abruptly.
Finally, our most personable – and apparently fearless – associate seized the opportunity as a personal challenge. Ms. Congeniality marched up the staircase to the second floor of our showroom determined to befriend this baffling duo. Downstairs, we took bets on whether she'd get anywhere with "Mr. and Mrs. Meany".
"Oh, they aren't mean at all," she told us later, after a long chat with the couple. "They are just scared to death."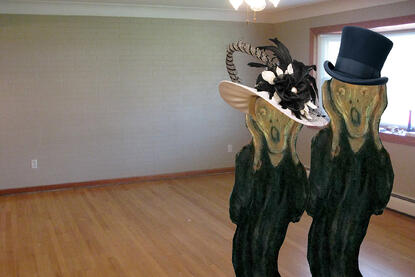 Scared? Yes. In fact, they are terrified of decorating their home. Five years ago, the two moved into their home and the place still looks like an vacant warehouse. Paralyzed by fear, they haven't bought a light fixture for the hallway. The result: a single light bulb dangling from the ceiling. Walls are bare. Entire rooms are empty.
Now, the holidays are coming and they are looking at the possibility of another graceless meal at the kitchen counter. But the alternative – buying a table and some chairs for the dining room – fills them with abject terror.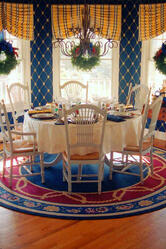 We witness such scenes all the time at Furniture Consignment Gallery. Many folks know what they like in furniture, but are afraid their taste is all "wrong." Some fear making a design mistake with poor choices in color, size or scale. Others search endlessly for the perfect design, without a clear idea of what that might look like.
Often, customers will turn to me and say: "I'm sure your home is beautifully furnished." Well, the truth is my home is full of the pieces that didn't sell. There's a dresser is in our foyer that sat on the showroom floor for over a year; it had been marked down almost to pennies. Finally, I took it home to put it out of my misery. And, believe it or not, we get more compliments on that dresser than almost any other piece of furniture in the house.
Not everyone has an interior designer on speed-dial. And decorating a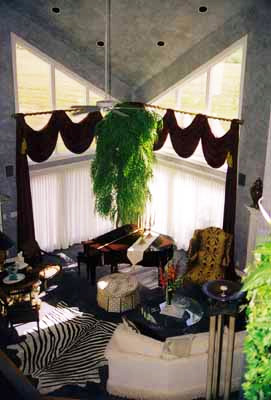 bare room can be intimidating. Here are five tips to help you get started:
Break the ice with a small item. Like a sculptor starting with a new block of stone, everything gets easier once you make the first cut. Dive in and buy a lamp or a rug that appeals to you.
After that first decision, things start to fall into place.
Personalize your home. Invest in pieces or furniture or art that matter to you. Loved that safari honeymoon? Display those tribal sculptures and gradually a decorating theme will emerge. (Think campaign chests and faux fur throws.) Did you inherit a beloved Victorian loveseat from Grandma? Honor her by using it in your home. How about that sloppy painting your five-year-old hauled home from kindergarten? Frame it! Showcase the personal, the meaningful, and the memorable. That's the heart of true beauty.
Add some humor to your décor! People are too serious these days. My mom has a sign hanging in her kitchen: "Wine is sure proof that God loves us." In our own home, my wife and kids have tucked action figures into obscure spots. Those hidden treasures always manage to grab our guests' attention. It's okay to be a bit goofy. Make your home special for you and your family.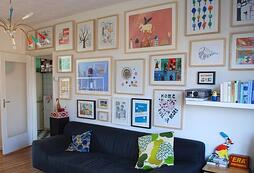 Make a list of what's important to you. Do you like organization or clutter? Some people feel panicky if things are not in the proper bins. Other feel as though they are in a dentist's office when things are too orderly.
Relax and look for pieces that make you smile. Your guests can't help but love a home that reflects a full – and well-lived – life. When my wife, the designer, returns from a job, I typically ask her how things are shaping up at the client's home. "Good!" she'll usually say. "It's not my taste – or yours – but they love it, and that's what really matters."