The Internet was on fire last week. A Scottish bride posted a photo of the dress her mother wore to her wedding and asked a simple question: what color is this? Within hours, tens of millions of people all over the world were hotly debating. Everyone but the Pope had an opinion.
What in color-nation was going on?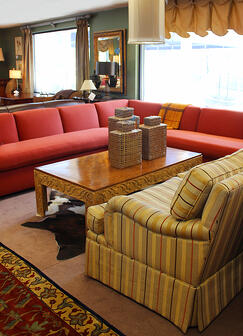 The Great Dress Debate illustrates some important truths. Everyone sees color differently. Some people don't see color at all. Then there are those who see greater variety and depth in color than the average Joe. Which explains a lot about the mystery of interior design.
Brian, Hanover's new assistant store manager, has a gifted eye for color. He proved it this week when the moving guys dumped a newly consigned salmon-colored sectional in his showroom. "Damn," I thought as I passed it by, "that is one ugly sofa."
In a few moments of inspiration, though, Brian whipped together a furniture vignette that included the sectional, a pair of mousy brown chairs and a rug in a bold geometric pattern. Suddenly, the ugly sectional looked stylish and modern. The brown chair was transformed into a crisp accent piece.
Suddenly, I wanted to take it home. What the heck? "Sometimes," Brian explained, "ugly plus ugly equals awesome." (Men, do not try this at home. This formula does not apply to your closet.)
Color is complex - and necessary - in successful design. Most of us struggle with it. That's why shopping for furniture and home accents is stressful. Mistakes are common but avoidable if you shop at FCG.
Some tips: shop in a showroom, not online. (Colors can be distorted by your computer.) Take fabric samples so that you can how see the color interacts with the light in your home. We are happy to loan a cushion for a day or so.
Bring color samples or photos of your walls, rugs and upholstered pieces when shopping. Our design-savvy associates will happily help coordinate a palette that will work in your home.
If you are still panic-stricken with color phobia, have no fear. Diana, my wife and a certified ASID interior designer, is offering a four-week series of evening classes at our showroom in Plymouth. Her color class is every student's favorite. Sign up now!