Furniture connoisseurs will debate for days about who makes the best furniture today. Is it the hand crafted reproduction furniture such as DR Dimes? Is it the Amish? Or is it the likes of one of the proven makers of high end furniture such as Councill Craftsman.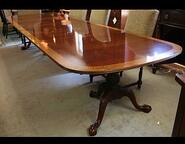 For those familiar with the Councill product, they will argue that Councill has the best furniture artisans, that their finish process is bar none and that the finished product is one that will be appreciated for many generations. These are tomorrow's fine antiques. f
This week's feature piece that we have on consignment is a Councill Craftsman Banded Inlay Dining table with (3) leaves. The inlay has ebony and satin woods and is quite magnificent. The table has three leaves and is a custom built length and width.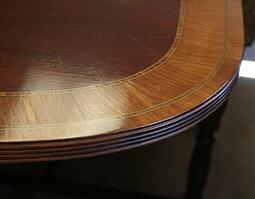 The table extends to 140 inches. Priced at $4,999, this table is less than half of its original purchase price and will make a wonderful addition to a home with a large dining room. It is designed to seat twelve family members for holiday dinners and then can be condensed to a much more manageable size for everyday life.
You can find striking dining room tables like Councill Craftsman on consignment at our Hanover Furniture Consignment store and our Furniture Consignment shop in Newton, MA.