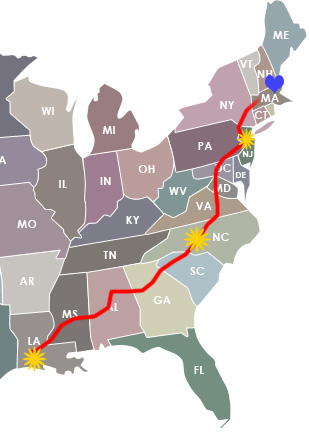 Yesterday, a truck filled with furniture left our loading dock and set off on a journey that will take it all the way to the Gulf of Mexico. First stop: New Jersey, where a homeowner is waiting eagerly for a set of chairs. Next: North Carolina, where an aspiring writer is getting a desk for her home office. Final destination is Louisiana, where a woman is finishing off a decorating project with an Ethan Allen cabinet she found - by searching online - at Furniture Consignment Gallery.
The Internet has made us all next-door neighbors. Buying consignment furniture online is commonplace now and, at FCG, we are seeing more and more of it. So for those readers who don't live in our home state of Massachusetts, here's a primer on how to get those great bargains you see on our website.
First, remember our furniture sells quickly. If you see an item you love, call immediately. We'll give you an honest appraisal of its condition. We'll also let you know if the piece is worth shipping. A Pottery Barn twin bed is about $400 new. We've got one for $250. But if you live in Arkansas, that wouldn't make sense because of shipping costs.
On the other hand, we have a set of Kindle chairs that sells new for about $10,000. Our price: $3,000. Now, that's a good buy. In other words, buying and shipping is a smart option when you are investing in high-end furniture.
For far-flung buyers, FCG can recommend a reputable and reasonably priced shipper. We've had years of experience with this shipper. We feel confident in our recommendation. You may find others who will ship for less, but we don't take responsibility for delays or damage en route.
Buying is easy. All it takes is a phone call. We accept all major credit cards, and we'll hold your furniture until the shipping company picks it up. You pay the shipper directly when the piece arrives at your home or office.
So whether you are in Wichita or Washington, D.C., you, too, can shop at Furniture Consignment Gallery. Bookmark our website and check it regularly - it's like a treasure hunt with new pieces every day. Why leave all these bargains to the savviest shoppers in Massachusetts?