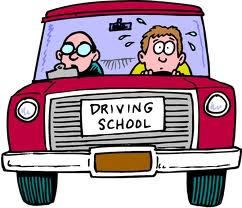 When I was 16, I started driver's ed with a bang. I brought a cocky confidence to my first lesson. "Back out of the parking spot slowly and carefully," the instructor said after I slid behind the wheel and buckled up. I jammed the car in gear, turned around to make sure I wasn't going to run over anyone, and then I hit the gas.
The car leaped forward before screeching to a halt. My neck snapped and my heart skipped a beat. "Good thing I have a brake on my side," the instructor said drily. "Next time, Jay, put the car in reverse if you want to back up."
Screeching brakes have been on my mind this week. Cade, my oldest son, is about to get his driver's permit. I intend to give him a few lessons myself before we sign him up for driver's ed. After all, it's a rite of passage, a kind of parental EKG, to see if your heart is strong enough to handle the trials of your offspring's adolescence.
Fortunately, we have a couple of good places to practice: our stores' parking lots. In a couple of weeks, I'm planning on taking him down to Plymouth - after hours, of course, when the place has cleared out and there's nothing much to damage but my nerves.
I hope he doesn't burn too much rubber when he makes those skid marks. In any case, the evidence won't be there long. We're planning on sealcoating and painting new stripes on that parking lot in the next week or two. That means we'll have to close the store for a day. We'll post a notice in the store and on the website so you'll know when that'll happen.
We'll steer clear of the store as we're making our slow and careful circles. We've got plenty of inventory inside and I'd rather not have skidmarks in the showroom.