Our loveable Boxer is a sweet pet, but, boy, can she slobber! And she has a habit of finding the most comfortable spot in the house and making it her own.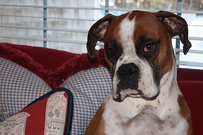 Since I'm a guy with a showroom full of furniture, you might think I let her sleep where she chooses, but no. We gate off our living room so that our upholstery stays clean and free of eau de pet.
That's one way to protect your furniture, but here are some other suggestions you might consider.
Do use table pads on your dining room table. They are crucial to enjoying family dinners and holiday events. Your tabletop is not designed to handle a hot platter or dripping candle wax. A quality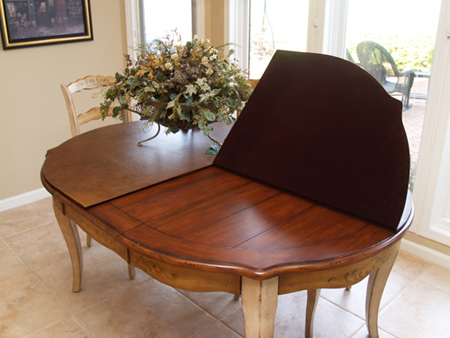 pad offers the protection you need to enjoy entertaining. Throw a tasteful tablecloth over it and relax. Your table is protected from nicks, gouges or spills. McKay Table pads are reasonably priced and can be purchased from most upscale furniture stores.
Don't put custom-cut glass on the tops of desks or tables. Glass detracts from the warm, elegant beauty of the wood. Every time I see glass on a table top I cringe because, inevitably, the protective circular buffers that hold the glass in place stick to the wood and ruin it. And if moisture gets trapped between the glass and the surface, the wood may be damaged.
Do use fabric protection on your upholstery. Murphy's Law is in

full force when it comes to your upholstered furniture. Serve coffee, red wine or even a kid's juice box and someone will manage to spill it. Fabric protection really works. Liquids bead up – and don't soak in. We offer our customers a product manufactured by ForceField. We think it is great, but there are other fabric protectors that also do a good job.
Don't cover your upholstery with plastic. Though it may offer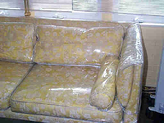 some protection, it looks ridiculous, and it kills the ambiance of a room. Just because Grandma did it doesn't mean it is a good idea. You don't want guests to think you're an obsessive-compulsive germ-a-phobe.
Do install window film that will protect furniture and upholstery from the sun's damaging ultraviolet rays. Window film won't change the view, but it will shield your furniture from powerful rays that could cause fading, drying and cracking. This solution can be pricey, but if you have invested in upscale furnishings and you have sunny windows, you may want to consider it. 3M makes a quality Sun Control Window Film product.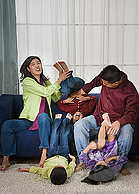 Don't feel badly if your lifestyle does mean a bit of wear-and-tear for your furniture. Relax. If you want to celebrate your big promotion by stretching out on the couch with the family dog in your lap while smoking a fine cigar and sipping a vintage merlot, go for it. You don't want to live in a museum.