She was stunned. She was just putting the finishing touches on a redecorating project. Window sheers had been ordered but hadn't been installed. And now she was packing up and moving.
Only a few weeks ago, someone had lobbed an unsolicited offer to buy her home for a price she couldn't resist. The house had been a sanctuary after a hard divorce. She loved the long gated driveway and the peaceful gardens. Her three girls had lived like princesses there, riding a social merry-go-round through childhood and adolescence.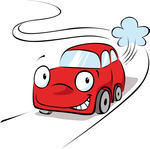 The girls left for college. Now, the brick mansion seemed to echo with loneliness. Selling hadn't been on her to-do list this spring, but the unexpected offer held out the happy promise of a new adventure.
So she called Furniture Consignment Gallery.
Mitchell Gold had just delivered a living room set. She admitted I was the first to ever sit on the sofa. That, too, went into our truck.Within days, we were at the house filling our truck with treasures including an EJ Victor china cabinet and an extraordinary console table by Dessin Fournir.
I asked where was she going. She said she had a temporary apartment, but no firm plans. "Where do you think I would like to live?" she asked. Our moving guys started tossing out ideas: Hingham, Duxbury, Marblehead, Manchester-by-the-Sea.
"When you guys are finished," she mused, "I think I'll go for a drive." She's traveling light. No baggage. That's the best way to start an adventure.