Once a trademark of a fine piece of furniture, the inlay that furniture enthusiasts seek and love has been insulted by modern manufacturing techniques and manufacturers. The contrasting wood grains with various inlays are being done with photo finishes and weak veneers. Low-end manufacturers have been luring uneducated consumers with fancy looks that quickly transform into a mess in the home.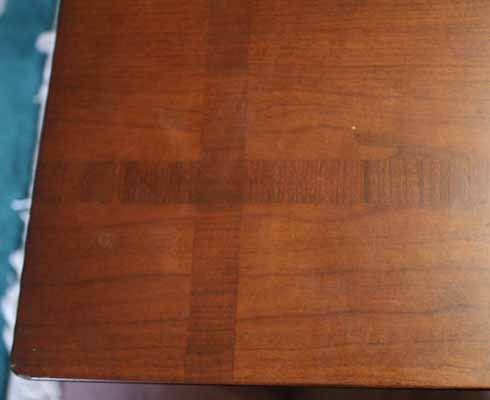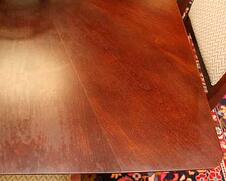 The side effect from the cheap inlay is that the consumer has grown used to seeing contrasting wood colors and grains and, as a result, prefers that look.
The problem is the basic, but solid Queen Anne cherry and double pedastal mahogany tables are suffering a bit on the resale market and it's not right. Consumers want the fancy look, but don't realize that the cheap inlays lift, smudge, crack and do not wear well. For the last 10 years, the big box furniture stores have found a product that connects with the uneducated furniture buyer. However, after a few years and the signs of a poor quality surface, consumers are licking their wounds and finding their way. A solid, but basic, traditional table will give you a classic look and a table that will withstand the test of time.
It may be frustrating that your dining room suddenly resembles that of your mother's or your grandmother's, but it will last. And the best part of all, is that it will hold value and help you to buy a real table with wonderful veneers and inlays that boast genuine satin, walnut and ebony woods.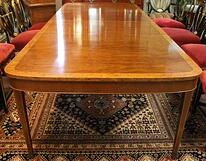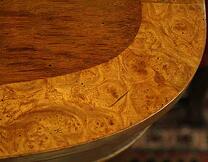 Save for the real thing and buy a high-end table with the banded inlay you have always wanted, but buy it on consignment when your budget is ready. It will be well worth the wait!