We see it all. Where most furniture sales people are trained only in the products that they represent, we have to know quite a bit about most everything that is being sold in the marketplace. As a result, we have some strong opinions about what makes furniture great.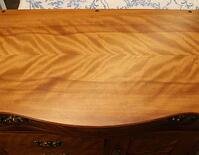 Here are three characteristics of great furniture.
Regardless of styles or furniture periods, the best furniture that we see has the finest grain of wood. The elite manufacturers such as Henkle Harris and Kindel Furniture stand out above the others because of the wonderful stock of wood that they choose. Their wood grains are so distinct they jump out of the finish.
Furniture with inlaid veneers over a solid wood is a sign of great furniture. Inlaid veneers are where a furniture artisan is able to show great creativity and can define their piece in a special way. These veneers constructed from walnut, satin, rosewood or ebony differentiate average furniture from great furniture. The selected wood grain for these veneers is also a key element to producing great furniture.
Attention to hidden areas is a characteristic of great furniture. If you can run your hand underneath a coffee table and your hand slides without friction or if drawers are finished on the inside, these are signs that the manufacturer poured everything they had into their product. Check for smoothness in how well the drawers slide in and out and that drawers are finely sanded and planed around the edges. Again your hand should be able to slide around a drawer without friction. Dovetailed drawers should feel like a continuous piece of furniture.
Furniture is like artwork in that it can be a masterpiece, but what matters most is that it apppeals to you.