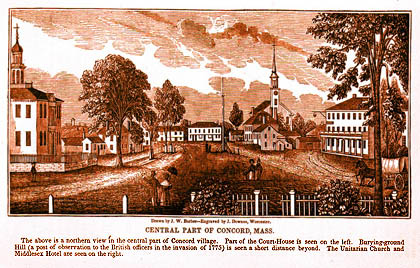 Eleanor Roosevelt once declared Main Street in Hingham to be the loveliest street in America. Now, I don't want to detonate a firestorm of civic pride here. Wellesley, Weston, Salem and Gloucester, I'll concede you've got your charms. But I beg to disagree with the First Lady. My vote goes to Concord.
Rich in political and literary history, Concord is a quintessential New England village, serene and timeless. Louisa May Alcott wrote "Little Women" here. Thoreau fled to its woods to chop wood and pen his famous epistle, "Walden." The town is graced with proud homes, elegant gardens, lush lawns, simple churches, cozy taverns and dark ponds.
That is why I was so excited last week visiting a beautiful historic home in the center of town. Built in1884, this three-story 7,000-square-foot brick home has four chimneys and a barn out back. Originally built as a summer home for his family by a wealthy merchant in Boston, the house has been lovingly preserved and renovated many times in the last century. Its current owner is selling the house - and has offered its furniture to FCG.
Our moving crew worked tirelessly, filling our truck with custom furniture designed just for this extraordinary home. The list of items is long: gold damask sofas by Baker, occasional chairs by Lillian August, a pristine mahogany dining set by Kindle, a drop-leaf table in gleaming bird's eye maple, leather chairs and sofas.
Concord's favorite son Thoreau urged us to seize the day, breathe the spring air, taste the new fruit - and, he would have added, appreciate the workmanship of our nation's top craftsmen. Our Hanover store is chockfull of amazing furniture pieces from this grand home. Come in and take a look. I promise you'll be as thrilled as I am.