My first thought: good thing he was wearing his helmet. Robbie, my six-year-old, and I were taking a bike ride last weekend in one of the state's beautiful parks. Suddenly, his bike slipped off the edge of the paved road. Then, he was down. He hit the rocky ground hard and my heart skipped a beat.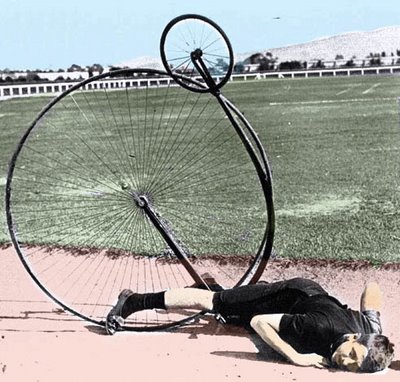 He'd been a trouper all afternoon, pushing the pedals with all his might climbing the steep hills and braking ever so gently to stay in control on the descent. Now, seeing the panic in his face as he stared at his scraped palms, I jumped off my bike and lifted his chin to look at me.
"Robbie," I said gently, "there's gonna be blood, but you're okay."
For a six-year-old, blood is scary. Blood requires Mom, Sponge Bob bandages, and chocolate milk. At least, that's the remedy in our house. But we were miles from home deep in the woods. No Mom, no Sponge Bob and a long bike ride back to the car.
Don't look at the scrapes, I advised him. Pull down your sleeves. Hop back on the bike. Robbie listened and nodded, his face serious. He grimaced, tugged his sleeves over the newly raw skin, then jumped back on his bicycle.
As we rode back to the car, I could tell his mind was already shifting from his tumble to the sheer joy of his first long bike ride with Dad. Robbie accomplished a lot that day. He learned how to climb hills. He learned how to control his speed. Most importantly, he learned how to overcome a setback.
Learning a new skill means making mistakes, and sometimes those mistakes can be pretty bruising. That day, Robbie learned to get up, brush himself off and get back in the game.
The best part of that day was the opportunity to appreciate something that had gotten buried in the back of my mind. My son reminded me that it takes grit and determination to learn a new skill. That's a good reminder for kids, adults - and especially for business owners. Looking back, I'd say that was the best bike ride ever.