He parked his bicycle outside the store on Route 9 in Chestnut Hill, opened the door and staggered into the showroom, out of breath and sweating profusely. "It's hot out there," he announced, wiping his brow.
"My wife sent me to check out some chairs," he told us. He was an older gentleman, but it was apparent from his build and his firm hand-shake that he may have been quite an athlete years ago. We pulled up a chair for him and offered him a gulp of water.
Like him, the Chippendale chairs had a rich patina, were full of character and solid as a rock. He looked them over and bought them decisively. The decisiveness is a trait that had likely served him well during, what we guessed to have been, a successful business career.
He decided to forego the bike ride home, and called his wife for a ride. Twenty minutes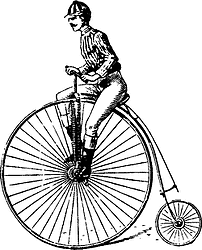 later, a woman strode into the store, clearly exasperated. She was a bit younger, pretty and a polished suburban wife. "What were you thinking?" she scolded the man. "The bike? In this heat? Route 9? Are you crazy?"
Despite the lecture - and a tumultuous medical history - he didn't look a bit sheepish. In fact, he ignored the rant and turned to us with a reasonable request. "Put those chairs aside for me. I'll be back to get them a bit later. Oh, and don't sell my bike."
After he left we thought: who wouldn't want to almost kill themselves by bicycling down Route 9 in blazing heat to buy their wife some chairs from FCG? It all made perfect sense to us.