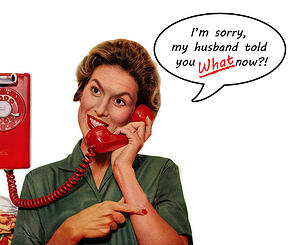 She exhaled a string of expletives into the phone. Thankfully, I wasn't the target. The culprit was her husband. With only one week to go before the family was moving into a grand new house, he'd called and scheduled my guys to strip the house of every stick of furniture.
His plan was to sell just about everything at FCG, and redecorate in a style that trumpeted his recent success in the corporate world. He demanded we strip the place of furniture ASAP. The closing on the new house was in one week. His plan was timely, organized and efficient.
Trouble is, his plan lacked support on the domestic front. His wife had a different plan. Hers was to fret, fume and procrastinate. She liked their old house, the old neighborhood - and the furniture. "Absolutely not," she said when I called to say our truck would be pulling into the driveway in an hour.
She hadn't packed a single box. Every dresser in the house was stuffed with clothing, she said. The wedding china was still on display in the cabinet in the dining room. Empty the house of furniture? "I'm just not ready!" she exclaimed. "Can't we reschedule?"
We were caught between husband and wife. And let me tell you, that is not a pleasant place to be. Especially when you're dealing with a high-testosterone husband and a wife skilled in guerrilla warfare.
Spring's busy moving season can be challenging - for our customers and for FCG. Our homes and furniture are loaded with meaning and memories. Add an ounce of conflict to the stress of a move and the entire situation becomes highly combustible.
At FCG, we try to be sensitive. We scrutinized our jam-packed schedule and managed to give the woman a few more days to pack. When we arrived, we moved quickly and quietly. We took it all, leaving only the mattresses on the floor. Our last item: the expensive leather chair from his home office. When we left, the two were in a state of shock.
After a few years of a listless real estate market, deals are moving faster than sellers can think. If you are ready to sell, consult with FCG as soon as you list your home. You may need us sooner than you think.