We pulled up in front of a massive mansion earlier this week to pick up some furniture. The owner, a wealthy businessman, was gutting the house down to the studs, then renovating and redecorating. He wanted us to sell his furniture - but he wasn't going to make it easy for us.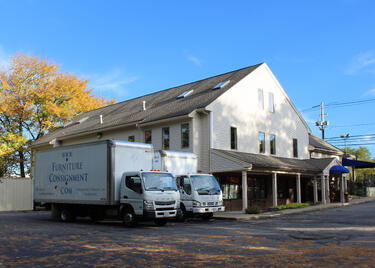 Rule #1: Do NOT park in the driveway. He didn't want tire marks or oil leaks from our truck staining his beautiful, black ribbon of asphalt. He was very fussy about his driveway. In fact, he boasted, he forced workers to use plastic shovels to clean the snow from the driveway by hand in the winter so the surface wouldn't be scratched by a plow.
Tiptoeing across his lawn was tough - but well worth it. We loaded up several truckloads of high quality furniture, which you'll find in our showrooms this weekend along with furniture from several other high-end homes in Boston.
And, yes, it is true. The very rich are different from you and me. Plastic shovels? Well, if you insist. Which is why they choose to partner with us more than any other consignment business in New England.
Why Furniture Consignment Gallery?
I can think of three reasons. One, they trust us to come into their homes and to handle their possessions with care and integrity. Two, we have the skilled people and the right equipment to carefully extract items from their homes without damaging the hand-painted wallpaper or the marble floors. And, three, they know that their furniture will be beautifully displayed in our three showrooms - and that it will sell.
Mr. Big Shot insisted that he didn't need the money, but he knows his furniture - gently used - still has value. "I want to see some money from this stuff," he said gruffly. "I know I'm going to get the best price by consigning with you. Then I'll donate the money to charity."
So it isn't about the money ... but it is about the money.
Working with the super-successful can be challenging, but we do it well. Our business is built to handle it. When you visit the showroom this weekend, feel free to chuckle a bit, knowing we had to skip lightly across some guy's lawn to bring you the best furniture in New England.