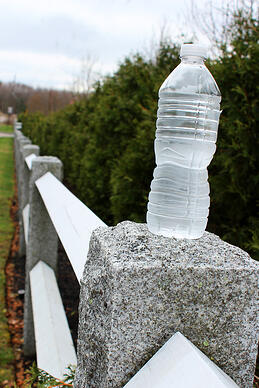 Early in the morning, picking up the paper in the driveway, I saw the water bottle perched on top of a fence post by the road. Condensation was beginning to freeze on the outside. I knew he was out there in the cold, racking up the miles, training for the Boston Marathon.
On Monday, my 37-year-old brother will fulfill one of his life's goals when he strides across the blue-and-yellow starting line in Hopkinton, MA, one of 27,000 runners. At 37, he has two other goals for the marathon. He wants to finish it- and enjoy it.
For almost a year, my fence post has served as a pit stop on his journey to Hopkinton, his water bottle a daily reminder of his determination. Not so long ago, when we three brothers would race, JT always came in last. He'd stagger in eventually, groaning in pain. He was out of shape and he consumed too much of the unhealthy stuff.
All that changed two years ago. He embraced health and fitness with a newfound discipline. I ran with him recently, but turned back home, tired and footsore, at mile three. He continued merrily down the road for another seven miles. After he completed two other marathons successfully - with times of 4:54 and 4:35 - JT's running club helped him secure a coveted slot in the world's most prestigious race.
We salute JT and all the runners who will pit their will and their endurance against the challenge of running 26.2 miles. Our family will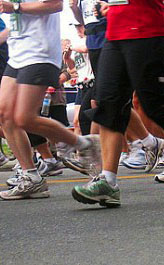 join JT today at the Runner's Expo in Boston, where he'll pick up his bib number and race instructions. Tomorrow, we'll carbo-load a pasta dinner at Mom's. On Monday, we'll be cheering when he crosses the finish line.
The marathon brings tens of thousands of runners to Boston, and we're always delighted so many stop by our stores during the weekend. (Here's the tip-off: they're wearing the blue jackets with the yellow stripes, and they're as lean as greyhounds.)
So if you are running the marathon, why not keep on going? Our Chestnut Hill store is only 6.3 miles from the course. Hanover is another 33 miles - we'll have a water stop set up for you. And Plymouth is only another 24.3 miles. Please, folks, just don't ask me to pace you, but if JT hasn't expended all of his energy maybe he will lead the charge.